As the holiday season approaches, there's no better time to infuse your home with warmth and festive cheer. Whether you're in the process of selling your house or just want to create a welcoming atmosphere for potential buyers, getting your home ready for the holidays is a key strategy. In this blog post, we'll explore some practical tips for making your home shine during this magical season.
Curb Appeal with a Festive Touch:



First impressions matter, especially in real estate. Enhance your home's curb appeal by adding subtle yet festive touches. Consider a wreath on the front door, a seasonal welcome mat, or tasteful outdoor lighting. These simple additions can make your home feel inviting and well-cared-for, leaving a positive impression on potential buyers.
Declutter and Depersonalize:
Before diving into holiday decorations, take the time to declutter and depersonalize your space. A clutter-free environment allows potential buyers to envision themselves in the home. Store away personal items and excess decor to create a clean canvas for your holiday embellishments.
Neutral and Elegant Decor: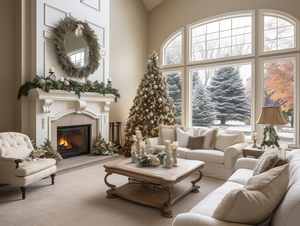 When decorating for the holidays, opt for neutral and elegant decor that complements your home's aesthetic. This ensures that your decorations enhance, rather than distract from, the features of your property. Consider using a cohesive color scheme that aligns with your home's existing palette.
Highlight Key Features:
Use holiday decorations strategically to accentuate your home's key features. For example, if you have a beautiful fireplace, consider framing it with garland and tasteful ornaments. Draw attention to architectural details or unique selling points to showcase the full potential of your property.
Set the Dining Stage: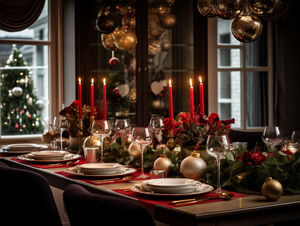 If your home features a dining area, pay special attention to this space during the holiday season. Set a festive table to showcase the potential for holiday gatherings. This allows potential buyers to envision themselves hosting celebrations in the space.
Staging with Seasonal Scents:
Appeal to buyers' senses by incorporating seasonal scents into your home. Consider subtle scents like cinnamon, pine, or vanilla. Be cautious not to overwhelm the space, but a well-placed scented candle or potpourri can enhance the overall experience.
Create a Cozy Atmosphere: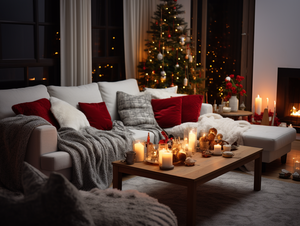 A warm and cozy atmosphere can make potential buyers feel right at home. Consider adding soft blankets, plush pillows, and subtle lighting to create a welcoming ambiance. This not only makes your home more inviting but also emphasizes its comfort and livability.
Professional Photography:
Once your home is holiday-ready, invest in professional photography to capture its beauty. High-quality images can showcase the warmth and charm of your decorated home, attracting potential buyers online and encouraging them to schedule a visit.
Getting your home ready for the holidays is not only a festive endeavor but also a strategic move in the real estate market. By carefully incorporating seasonal decor and maintaining a clean, inviting space, you can make your home stand out during this joyful season. Use these tips to create a memorable experience for potential buyers and help them envision the magic of celebrating the holidays in their new home.